New HDK arrived: Bluegiga DKWF121
Hello everyone
well it does not stop. There was another Development Kit delivered to my door last week.
The Bluegiga DKWF121 Development Kit for their Wifi WK121 Module. I was thinking a long time to get a first hands-on on this Wifi module since a few peaople already asked my if I can help them during development of IoT devices using the WF121. No w I can. Hopefully I will get some spare time to play around with the demos provided in the SDK and give some feedback about how to use it.
For developers that are already familiar with developing BGScript based firmwares for the BLE112, BLE113 or the BLE121LR BLE modules from Bluegiga, developing Wifi firmwares should not be too difficult since zou can use BGScript with the WF121 as well.
I hope that I can use some functions that I implemented for the BLE112 or BLE113 on the WF121.
Here is a picture of the Development Kit contents: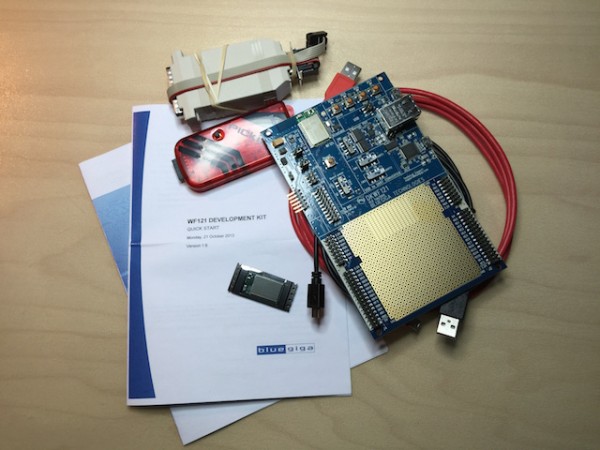 See if I can order a Breakoutboard from Jeff Rowberg to have a smaller board available to integrate it into smaller Arduino based setups. BTW I'm very interested in the Arduino Wifi Shield Jeff is currently developing using the WF121 module.
Thanks for reading
Michael